The Reserve Bank of India recently introduced the UDGAM Portal 2023 Link. You should know that sometimes people pass away or stop using their bank accounts. In such cases, the bank waits for 10 years, and after that, the money is moved to the Reserve Bank of India. If you have a family member who has a bank account or a Fixed Deposit but has not used it for the last 10 years, then you can use the RBI UDGAM Portal for Unclaimed Deposits. The Reserve Bank of India launched this UDGAM Application Form 2023 @ udgam.rbi.org.in. It's designed to help citizens to claim about Rs 35,000 Crore that belongs to them. There are currently 7 linked banks, and more will be joining soon. You can check if you have an account on the portal. To finish the claim process, complete the UDGAM Portal Registration @ udgam.rbi.org.in. Only after registration can you access your blocked funds. Before registering, ensure you have all the needed info, including UDGAM Portal RBI Registration 2023 and UDGAM RBI Banks Linked.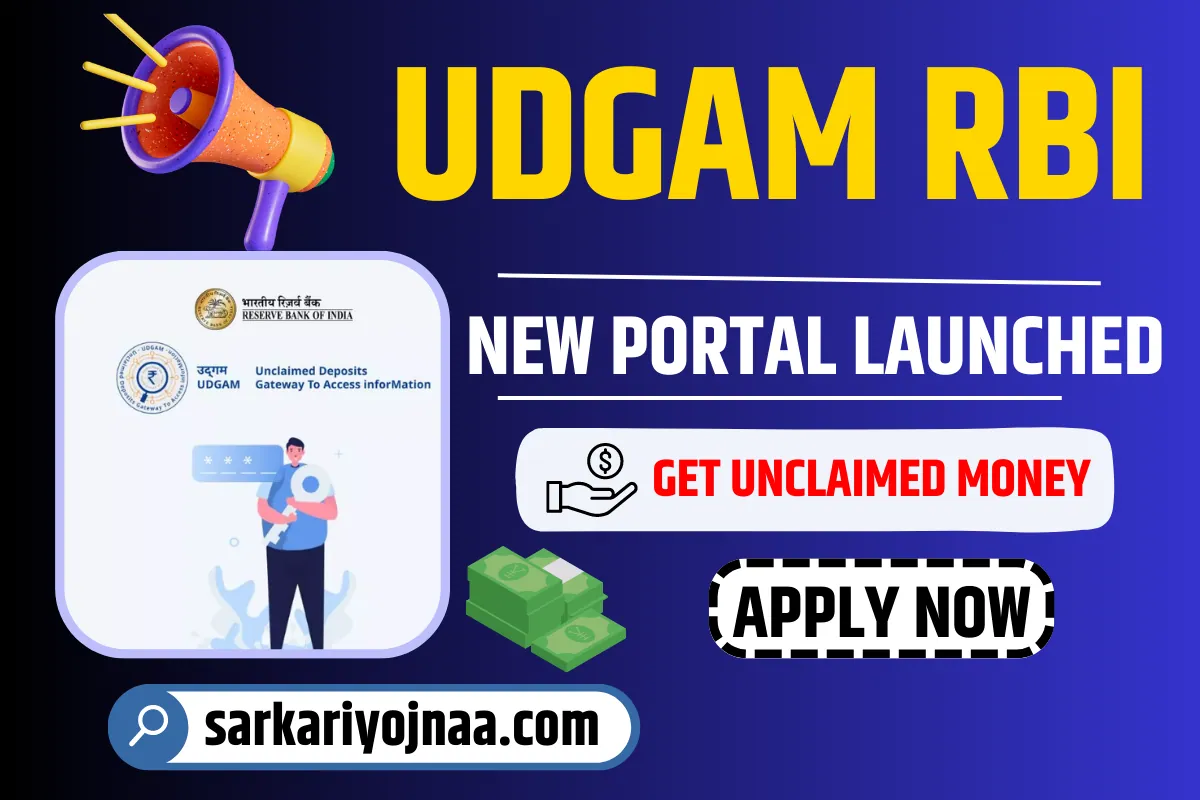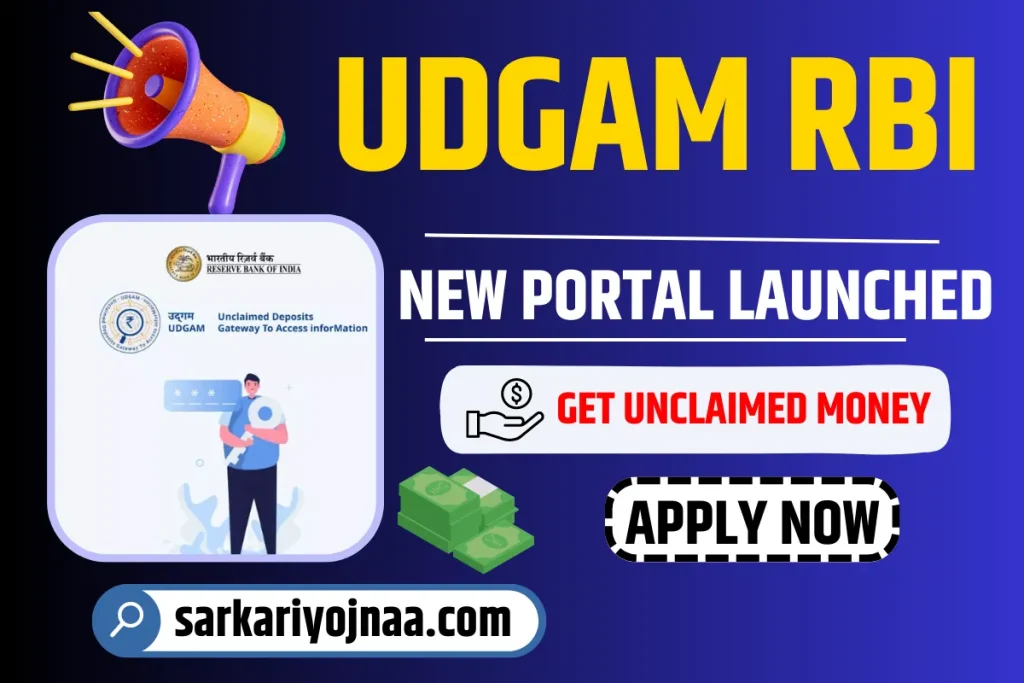 RBI UDGAM Portal 2023
The Reserve Bank of India has introduced a new website to help people find forgotten deposits. This comes from a recent announcement about policies for development and regulations on April 6, 2023. The RBI has been worried about the number of deposits people haven't claimed. So, they've been running programs to inform the public about it. They want to ensure everyone knows and can get their money from the bank, and we are giving you a detailed article on this. We have also made a video to cover the UDGAM Portal and its registration process.
How UDGAM PORTAL WORKS
The Reserve Bank of India (RBI) launched the UDGAM Portal (Unclaimed Deposits: Gateway to Access Information) in 2023. UDGAM Portal acts like a central storehouse of details regarding deposits that people haven't claimed, which are held by banks in India. An unclaimed deposit is like sitting around without any activity for about 10 years. That means there haven't been any actions like deposits, withdrawals, or interest payments for 10 years. When an account turns into an unclaimed one, the money inside it gets sent over to the RBI. The RBI then keeps that money in a separate account called the Depositor Education and Awareness (DEA) Fund.
The UDGAM Portal Allow people to look for forgotten money that might be kept under their name. To find it, you need to give certain details.
Your name
Your date of birth
Your PAN number
Your bank account number
If the RBI discovers an unclaimed deposit registered under your name, they will contact you and give you additional details on how to get back the money. The UDGAM Portal is useful for people who might have unclaimed deposits. If you haven't used your bank account for a while, it's good to check the UDGAM portal to find any unclaimed money in your Account.
UDGAM RBI Portal Highlights
| | |
| --- | --- |
| 🌐 Portal Name | UDGAM RBI Portal |
| 🏦 Started by | Reserve Bank of India |
| 🎁 Benefit | Easily Claim of Unclaimed Deposits |
| 📊 Category | Finance |
| 👥 Beneficiary | Individuals and Non-Individuals with unclaimed deposits |
| 🖥️ Registration and Login Process | Online |
| 📅 Starting Date of Registration | 18th August 2023 |
| 🔗 Official Website | udgam.rbi.org.in |
| 🔐 UDGAM PORTAL Login Link | UDGAM PORTAL Login Link |
| ✍️ UDGAM New Registration Link | UDGAM PORTAL Registration Link |
| 🏦 Linked Bank With UDGAM Portal | SBI, Punjab National Bank, Central Bank of India, Dhanlaxmi Bank, – South Indian Bank, DBS Bank India, and Citibank |
How to Use the UDGAM Portal to Find Unclaimed Money
A new website that just came out will change how people deal with forgotten money in banks. It's easy to use, and you can find your lost money or restart old bank accounts by talking to your bank. This cool website happened because many people and banks worked together, like Reserve Bank Information Technology Pvt Ltd (ReBIT), Indian Financial Technology & Allied Services (IFTAS), and some banks. They want to make money stuff easier and help people manage their money.
You can now see forgotten money info from seven banks on the site. These banks are the State Bank of India, Punjab National Bank, South Indian Bank, Central Bank of India, Dhanlaxmi Bank, DBS Bank India, and CitiBank N.A. According to the RBI, more banks will join this website, and you can find their forgotten money starting from October 15, 2023. This is a big deal because it clarifies money and gives people in India more control over their money.
UDGAM Introduction
To find your lost savings, join the UDGAM platform. It is very Easy – provide your phone number name, and create a password. Once you have signed up, you will receive an OTP on your phone for verification. After confirming, login, select your bank, and search using your PAN, Voter ID, or birth date.
Important Documents for UDGAM Portal
Mobile Number:

For initial registration, verification, and receiving OTPs (One-Time Passwords).

Name of the Account Holder:

Matching the exact name with the bank records is essential for accurate search results.

Bank Details:

Information about the bank or banks where the user might have unclaimed deposits.

PAN (Permanent Account Number):

One of the identification criteria is to search for unclaimed deposits.

Voter ID:

An alternative identification criterion users can provide to search for their deposits.

Driving License Number:

Another identification option for users to help locate their dormant funds.

Passport Number:

It is useful for those who might have used their passport as identity proof during the initial deposit or account creation.

Date of Birth:

It is essential to cross-verify the account holder's identity and match it with bank records.
Users must have these documents handy when accessing the UDGAM portal to ensure a smooth and efficient search.
Benefits of the UDGAM Portal
Centralized Access:

The portal offers a one-stop solution, allowing users to easily locate and access unclaimed deposits from various banks all in one place, eliminating the need to check multiple bank websites.

Ease of Use:

With a user-friendly interface, UDGAM simplifies searching for dormant deposits. Its registration and verification process is also straightforward, making it convenient even for those not tech-savvy.

Promotes Transparency:

UDGAM brings more transparency to the banking sector by displaying accurate and updated information on unclaimed deposits. Users can trust the information presented and proceed with the claiming process.

Financial Inclusivity:

By helping people discover their forgotten or unknown deposits, the portal ensures that individuals get back what is rightfully theirs, fostering financial awareness and inclusivity.

Saves Time and Effort:

Instead of physically visiting bank branches or navigating through multiple bank websites, users can effortlessly search and claim their unclaimed deposits from the comfort of their homes, making the entire process efficient and time-saving.
How to Claim Your Unclaimed Deposits through the UDGAM Portal

Register by providing your phone number and name.
Create a password and input the Captcha code.
Check the provided checkbox and proceed by clicking "Next."
Verify your registration by entering the OTP (One-Time Password) sent to your phone.
How to Check Unclaimed Deposits in Banks via RBI's UDGAM Portal
Step 1: Visit the Website
Step 2: Provide Your Details

Enter your phone number, password, and captcha code.
Input the received OTP (One-Time Password).

Step 3: Complete Account Holder Information

On the next page, fill in the mandatory field: Name of Account Holder.
Choose your bank from the provided list.
Step 4: Enter the Search Criteria

Provide at least one piece of information from the following search criteria:

PAN (Permanent Account Number)
Voter ID
Driving License Number
Passport Number
Date of Birth
Step 5: Initiate the Search

Click on the search option.
The system will display any unclaimed deposit accounts associated with the provided information.
Step 6: Select Unclaimed Deposit Account Details
You can tap the arrow icon to learn more about money that belongs to you but hasn't been collected yet.

When you choose the account, a new option appears. Here, you can see all the details about the account. You can view the account-related information below.
Step 7: EXPORT PDF
You need to save the PDF file that you see here by exporting it.

After Exporting PDF files, you'll need to choose a bank. Once you pick the bank, you'll be directed to their official website.
Step 8: Report Your Unclaim Deposit To The Bank
Since you've been redirected to the bank's official website, now you need to inform the bank that your Unclaim Deposit in the bank is which you want to claim.

You can find out about this process by visiting the bank's official website, calling the helpline number, or even going to the bank offline.
Contact Details
If you want more information or have any questions about the RBI Udgam Portal, you can get in touch using the contact info provided below:
UDGAM Support Team: [email protected]
Summary
The UDGAM portal is a game-changer. It's all about bringing transparency and ensuring everyone can effortlessly find the right funds. So, if you think you have an old, forgotten deposit somewhere, UDGAM is the place to start your search.

FAQ: Everything You Need to Know About the RBI's UDGAM Portal
What is Udgam by RBI?
Reserve Bank of India has unveiled UDGAM (Unclaimed Deposits – Gateway to access Information), a centralized online platform. This remarkable move signifies a crucial stride in tackling the challenge of unclaimed deposits within the banking sector.
What is the UDGAM portal's main purpose?
UDGAM Portal RBI Is designed to help users find and claim unclaimed deposits across different banks.
How many banks are currently part of UDGAM?
Seven banks are listed now with UDGAM Portal RBI, with plans to add more by October 15, 2023.
Where do unclaimed deposits go if not claimed?
They get transferred to the "Depositor Education and Awareness" (DEA) Fund managed by RBI. However, depositors can still claim them from their original banks with interest.