The Reserve Bank of India (RBI) has started the UDGAM Portal to help people find unclaimed deposits in different banks. You can use this portal at udgam.rbi.org.in to search for any unclaimed money. RBI wants to make finding and claiming unclaimed funds easy and make finance clear and open for everyone.
RBI's new UDGAM Portal aligns with its goal to increase awareness about unclaimed deposits. The rise in these deposits made RBI launch this easy-to-use portal. RBI wants to inform people about this big issue through different ways to spread awareness. They ask people to talk to their banks more, so getting back their unclaimed money is simpler. This shows RBI's promise to make finance clear and help people get their money rightly theirs.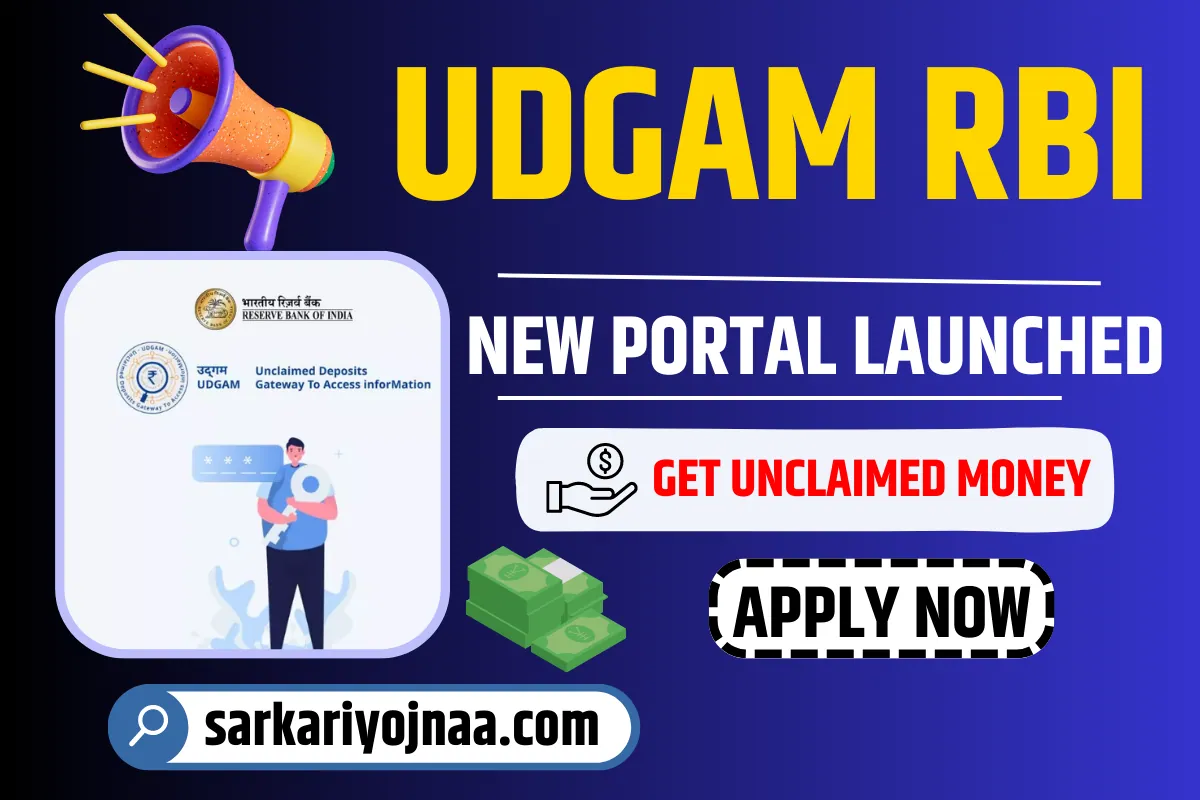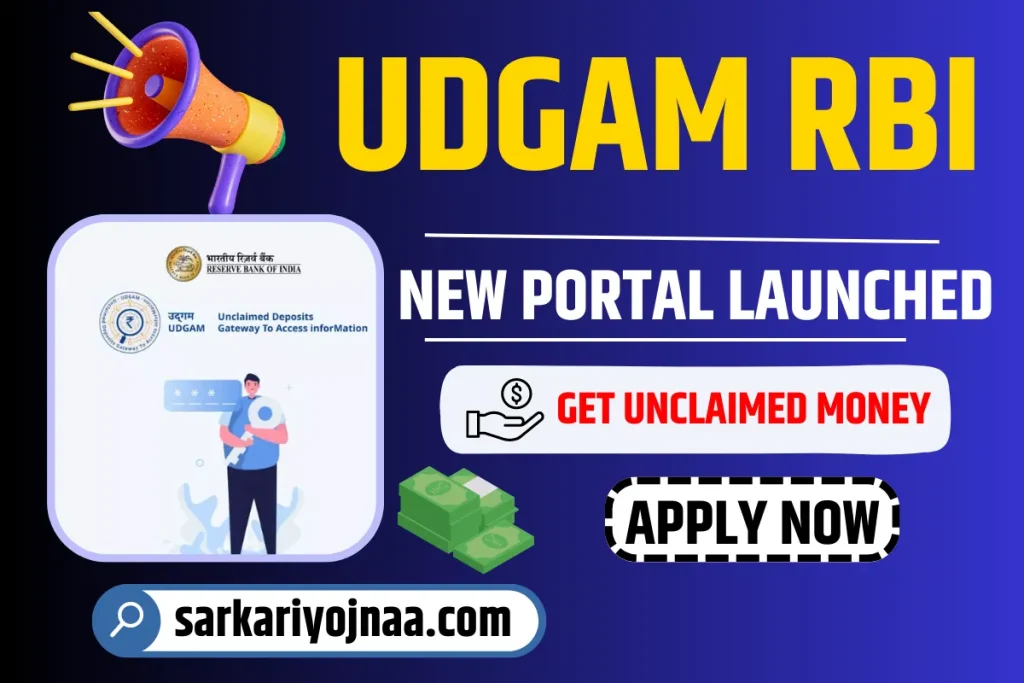 RBI's UDGAM Portal: A One-Stop Solution to Find Unclaimed Deposits
Introducing a pioneering initiative by the Reserve Bank of India – UDGAM (Unclaimed Deposits – Gateway to Access Information). This innovative centralised web portal marks a significant stride towards aiding bank customers in locating their unclaimed deposits effortlessly. Through this portal, individuals can now seamlessly explore their forgotten or overlooked deposits spread across various banks, all from a single, convenient platform.
The enormity of unclaimed deposits in India is staggering, estimated at Rs 35,000 crore. This substantial sum reflects the funds that have slipped from memory or slipped through the cracks. With foresight, the RBI unveiled its plan for this centralised web portal dedicated to unclaimed deposits in its Statement on Developmental and Regulatory Policies dated April 06, 2023. This visionary step aims to empower the public, making pursuing unclaimed deposits an accessible and consolidated endeavour.
UDGAM RBI Portal Highlights
| | |
| --- | --- |
| 🌐 Portal Name | UDGAM RBI Portal |
| 🏦 Started by | Reserve Bank of India |
| 🎁 Benefit | Easily Claim of Unclaimed Deposits |
| 📊 Category | Finance |
| 👥 Beneficiary | Individuals and Non-Individuals with unclaimed deposits |
| 🖥️ Registration and Login Process | Online |
| 📅 Starting Date of Registration | 18th August 2023 |
| 🔗 Official Website | udgam.rbi.org.in |
RBI UDGAM Portal Highlight
| | |
| --- | --- |
| 🔎 Feature | 📜 Description |
| 🚪 Portal's Name | UDGAM (Unclaimed Deposits Gateway To Access information) |
| 🏢 Presented By | Brace yourself! More banking stars are joining by October 15, 2023. |
| 🎯 Dream & Aim | Connecting souls with their forgotten wealth! |
| 🏦 Banking Stars (as of now) | SBI, Punjab National Bank, Central Bank of India, Dhanlaxmi Bank, – South Indian Bank, DBS Bank India, and Citibank (but only for groups, not individuals) |
| 🚀 Upcoming Additions | More banks will be added by October 15, 2023. |
| 🔐 UDGAM PORTAL Login Link | UDGAM PORTAL Login Link |
| ✍️ New? Register Here | UDGAM PORTAL Registration Link |
| 🌐Official Website | Click Here To Official Website |
How to Use the UDGAM Portal to Find Unclaimed Deposits
The newly launched web portal will revolutionize how users handle unclaimed deposits and accounts. With its user-friendly interface, individuals can easily track down their forgotten funds or reactivate dormant accounts directly through their respective banks, according to the RBI.
This innovative platform results from collaborative efforts between Reserve Bank Information Technology Pvt Ltd (ReBIT), Indian Financial Technology & Allied Services (IFTAS), and various banks. The aim is to simplify financial processes and empower users to take charge of their finances.
Currently, the portal provides access to unclaimed deposit information from seven prominent banks, including State Bank of India, Punjab National Bank, South Indian Bank, Central Bank of India, Dhanlaxmi Bank, DBS Bank India, and CitiBank N.A.
As part of its phased approach, the search functionality for deposits in other banks will gradually become available on the portal by October 15, 2023, as stated by the RBI. This development marks a significant step in enhancing financial transparency and control for users across India.
Getting Started on UDGAM: A Quick Guide
You must first register on the UDGAM portal to access your dormant deposits. This is a simple process where you enter your mobile number and name and choose a password. After registering, you'll receive an OTP on your mobile for verification. Once verified, log in, select your bank and search using details like PAN, Voter ID, or even your date of birth.
Important Documents for UDGAM Portal
Mobile Number:

For initial registration, verification, and receiving OTPs (One-Time Passwords).

Name of the Account Holder:

Essential to match the exact name with the bank records for accurate search results.

Bank Details:

Information about the bank or banks where the user might have unclaimed deposits.

PAN (Permanent Account Number):

One of the identification criteria is to search for unclaimed deposits.

Voter ID:

An alternative identification criterion users can provide to search for their deposits.

Driving License Number:

Another identification option for users to help locate their dormant funds.

Passport Number:

Useful for those who might have used their passport as identity proof during the initial deposit or account creation.

Date of Birth:

Essential to cross-verify the identity of the account holder and match it with bank records.
Users must have these documents handy when accessing the UDGAM portal to ensure a smooth and efficient search.
Benefits of the UDGAM Portal
Centralized Access:

The portal offers a one-stop solution, allowing users to easily locate and access unclaimed deposits from various banks all in one place, eliminating the need to check multiple bank websites.

Ease of Use:

With a user-friendly interface, UDGAM simplifies searching for dormant deposits. Its registration and verification process is also straightforward, making it convenient even for those not tech-savvy.

Promotes Transparency:

UDGAM brings more transparency in the banking sector by displaying accurate and updated information on unclaimed deposits. Users can trust the information presented and proceed with the claiming process.

Financial Inclusivity:

By helping people discover their forgotten or unknown deposits, the portal ensures that individuals get back what is rightfully theirs, fostering financial awareness and inclusivity.

Saves Time and Effort:

Instead of physically visiting bank branches or navigating through multiple bank websites, users can effortlessly search and claim their unclaimed deposits from the comfort of their homes, making the entire process efficient and time-saving.
How to Claim Your Unclaimed Deposits through the UDGAM Portal

Register by providing your phone number and name.
Create a password and input the Captcha code.
Check the provided checkbox and proceed by clicking "Next."
Verify your registration by entering the OTP (One-Time Password) sent to your phone.
How to Check Unclaimed Deposits in Banks via RBI's UDGAM Portal
Step 1: Visit the Website
Step 2: Provide Your Details

Enter your phone number, password, and captcha code.
Input the received OTP (One-Time Password).

Step 3: Complete Account Holder Information

On the next page, fill in the mandatory field: Name of Account Holder.
Choose your bank from the provided list.

Step 4: Enter the Search Criteria

Provide at least one piece of information from the following search criteria:

PAN (Permanent Account Number)
Voter ID
Driving License Number
Passport Number
Date of Birth

Step 5: Initiate the Search

Click on the search option.
The system will display any unclaimed deposit accounts associated with the provided information.
RBI's Concerns About Unclaimed Deposits
Despite RBI's efforts to boost public awareness, unclaimed deposits have risen. These untouched deposits are transferred to the "Depositor Education and Awareness" (DEA) Fund. However, depositors can still claim these funds, with interest, from their original banks.
UDGAM Portal: How It Empowers Customers to Claim Their Unclaimed Deposits
In the past, to find unclaimed deposits, you'd need to visit multiple bank websites. UDGAM has changed that. Now, with just a few clicks, you can locate and claim your funds from various banks, all in one place.
Summary
The UDGAM portal is a game-changer. It's all about bringing transparency and ensuring everyone can effortlessly find the right funds. So, if you think you have an old, forgotten deposit somewhere, UDGAM is the place to start your search.

FAQ: Everything You Need to Know About the RBI's UDGAM Portal
What is Udgam by RBI?
Reserve Bank of India has unveiled UDGAM (Unclaimed Deposits – Gateway to access Information), a centralized online platform. This remarkable move signifies a crucial stride in tackling the challenge of unclaimed deposits within the banking sector.
What is the UDGAM portal's main purpose?
UDGAM Portal RBI Is designed to help users find and claim unclaimed deposits across different banks.
How many banks are currently part of UDGAM?
Seven banks are listed now with UDGAM Portal RBI, with plans to add more by October 15, 2023.
Where do unclaimed deposits go if not claimed?
They get transferred to the "Depositor Education and Awareness" (DEA) Fund managed by RBI. However, depositors can still claim them from their original banks with interest.