|| How to get grant on agricultural machinery Subsidy scheme | e-krishi anudan scheme | Krishi yantra subsidy scheme | Krishi yantra Subsidy Scheme | Farmer Subsidy Yojana , Farmer subsuidy Scheme ||
If you are a farmer and doing farming, then the government has started the e-Krishi Yantra Anudan Scheme for you, under this, you will be able to get a tractor or agricultural machine for farming on subsidy. Let us know about it.
Farmers require a tractor or tractor-driven agricultural machine for modern farming. The government knows very well that not every farmer is enough to buy his own farm equipment. Keeping this in mind, the government has launched the e-krishi yantra Anudan Yojana (e-krishi yantra anudan yojana) scheme under which the government provides farmers Tractors or tractor-driven agricultural equipments are subsidized according to their needs.
Whether in agriculture or sowing of crops or harvesting, farmers need an agricultural machine with modern technology.
The sowing of the crop has started in the Ravi season, so the state government is giving farm equipment subsidy to its farmers, under this, the Madhya Pradesh government took the construction of giving subsidy to tractors and agricultural equipments keeping in mind the sowing of the crop. Is, for which farmers can apply online.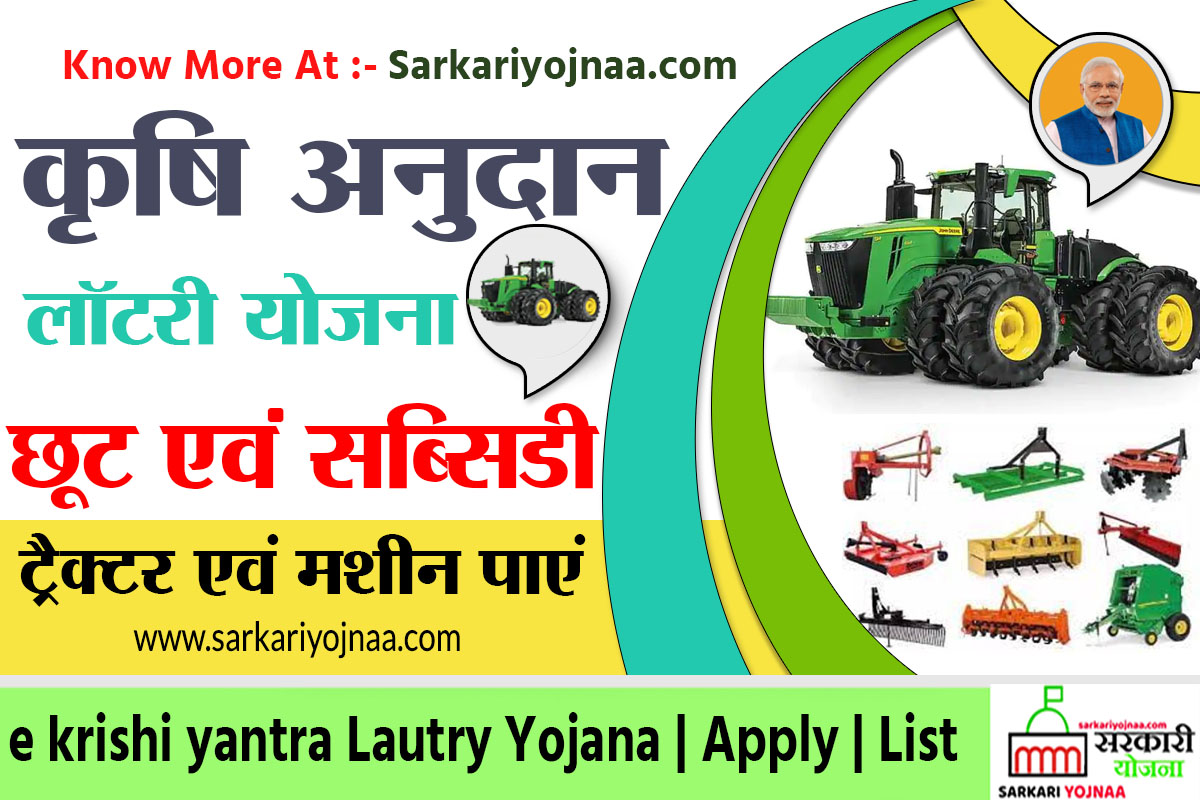 UNDER THE E-KRISHI YANTRA SUBSIDY SCHEME, FARMERS CAN GET ALL TYPES OF EQUIPMENT.
Under the e-Krishi Yantra Subsidy Scheme, all types of equipment are used for agriculture, small or big, farmers can apply online for their use, under this scheme, every time by the state government Equipment will be made available for farmers.
E-Krishi Yantra Anudan scheme IMPLEMENTS CAN BE GIVEN all tyoe of AGRICULTURAL EQUIPMENT on SUBSIDY ?
Although almost every type of agriculture-related equipment is covered under this scheme, this time, all the agricultural equipment required from farmers to tillage to harvesting can be given under this scheme but for all farmers, this scheme is not. A list has been given on e-krishi portal. If your district comes in this list, then you will get the agricultural machine easily. If your district does not come then there may be some problem there.
Scheduled caste and informed caste farmers will get a tractor on subsidy, but other farmers of this caste will not be able to apply for taking the tractor subsidy.
E-KRISHI YANTRA SUBSIDY SCHEME FOR WHICH INSTRUMENTS CAN BE APPLIED?
People of all castes including both scheduled and informed people as well as general class farmers can also apply for the devices mentioned below.
◆ seed drill
◆ seed work fertilizer drill
◆ Raised bed planter with inclined plate shopper
◆ tractor mounted sprayer
◆ Thresher / Mulcher Agricultural Equipment
◆ Reaper work binder
◆ tractor operated winnowing fan
Also read, Pm Kisan List Update on Pm Kisan Portal, All Farmers Name Upload.
HOW LONG IS THE APPLICATION FOR THE E-KRISHI YANTRA SUBSIDY SCHEME?
The online application for an e-agricultural subsidy  is available from October 21, 2019 from 12:00 noon to October 30, 2019 at 12:00 pm, after which the website itself will be closed.
HOW WILL FARMERS GET YANTRA / E-KRISHI YANTRA SUBSIDY SCHEME SELECTION PROCESS?
This time the government has given importance to "first come first serve" in the Krishi Yantra Subsidy Scheme, which means that the farmer who applies first is most likely to get the equipment soon. All applications made between 21 October and 30 October will be treated as uniform and the list distributed according to the different agricultural instruments will be prepared by the lottery system. The lottery system will not be done by any humans or will remain computerized.
The list of farmers corresponding to the machines will be uploaded on the portal after 12:00 noon on October 31, 2019 , based on the names selected by the computer.
That is, the name of the farmers who came in the lottery which will be chosen by computer will be seen on the portal, which will be seen on the portal after 12:00 noon on October 31, 2019.
DOCUMENTS REQUIRED
Whenever you go to apply online under the e-Krishi Yantra Subsidy Scheme, keep the following documents with you. Required documents
◆ Aadhaar Card
◆ Photo copy of first page of bank passbook
◆ Caste certificate (for SC and ST farmers only)
◆ Land Receipt
SOME IMPORTANT THINGS
◆ Under this scheme, farmers can purchase all types of tractor-driven equipment, but the RC of the tractor must be in the name of their own parents, siblings or spouses. 

(The tractor owner must be you or someone from your family)

◆ Select the dealer carefully at the time of online registration,

the dealer selection cannot be done again.

◆ Farmers can also apply online through the mobile app, for this, the latest version of the farmer's mobile app which has been released after 22-6-2019 will have to be installed.
◆ The farmer/dealer is informed that the purchase of tractors and agricultural implements should be taken only after the issue of the approved purchase order.
HOW TO APPLY ONLINE FOR GRANT.
For all types of agricultural machines in Madhya Pradesh, farmers can apply on the online e-Krishi Yantra Grant Portal, but all the farmer brothers have to keep in mind that at the time of application, farmers have to give their fingerprints so apply from there. Where biometric machines are available. To do this application, you can resort to the Common Service Center near you. The application can be made through e-krishi vitran portal (https://dbt.mpdage.org/).
ध्यान दें :- ऐसे ही केंद्र सरकार और राज्य सरकार के द्वारा शुरू की गई नई या पुरानी सरकारी योजनाओं की जानकारी हम सबसे पहले अपने इस वेबसाइट palamau.in के माध्यम से देते हैं तो आप हमारे वेबसाइट को फॉलो करना ना भूलें ।
अगर आपको यह आर्टिकल पसंद आया है तो इसे Like और share जरूर करें ।
इस आर्टिकल को अंत तक पढ़ने के लिए धन्यवाद…
Posted by Palamu News
krishi anudan yojana , krishi anudan yojana  , krishi anudan yojana , Farmer subsuidy Scheme , Farmer subsuidy Scheme , Farmer subsuidy Scheme , Farmer subsuidy Scheme